FORTRESS Pop-Up Cricket Batting Net
FORTRESS Pop-Up Cricket Batting Net
FORTRESS Pop-Up Cricket Batting Cage – Premium Portable Cricket Net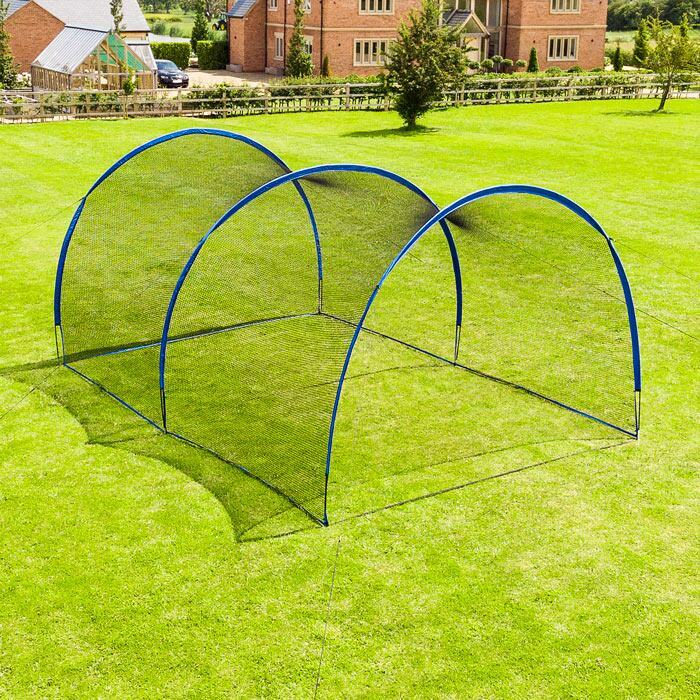 Assemble In Minutes
Unique to other cricket batting nets, the FORTRESS Pop-Up Cricket Batting Cage can be assembled in minutes. The innovative elasticated sections allow you to begin almost instantly.
Take It Anywhere
As well as offering an exceptionally quick set-up time, this batting net can be used wherever you like. The impressive cricket cage comes with a heavy-duty carry bag included for simple storage & portability.
Detachable Front Panel
The 6m option comes with a fully detachable front panel to allow you to switch between an open & closed end with ease. Panel features a cut-out area for bowling machines to deliver balls through.
Description
FORTRESS Pop-Up Cricket Batting Net – Ideal For Cricket Clubs & Gardens
The brand-new FORTRESS Pop-Up Cricket Batting Net is a must-have for cricket clubs & garden set-ups. The quick-to-assemble batting cage allows players & coaches to create a professional cricket net session in no time – providing the perfect preparation for being out in the middle on a matchday. Measuring 6m in length, the Pop-Up Cricket Batting Cage Net is available as a single or double option – by selecting the double option (12m) you'll receive a fully enclosed batting net which consists of 2x 6m cages which are fixed together using the elastic bungee ties provided. The single cage (6m) comes with a detachable front panel which features a 12in x 28in cut-out for bowling machines – ideal for solo batting practice.
FORTRESS Pop-Up Cricket Batting Net (6m x 3.8m x 2.8m) – For cricket clubs & garden use
Quick-to-assemble cricket cage features 12.7mm fibreglass poles (highly-durable)
Cricket Net crafted using 3ply knotless polyester with 25mm mesh (suited to all cricket balls)
Cricket Batting Net features 600D PU Oxford Fabric net banding & frame sleeves
Cage comes with detachable front panel for closed/open end option (with bowling machine cut-out area)
12m Batting Cage option consists 2x 6m cages secured together using bungee ties (enclosed)
Adjustable guy ropes & 4mm heavy-duty steel pegs included for excellent stability
Lightweight & portable with heavy-duty carry bag included for easy storage
Guaranteeing to be a part of your cricket training set-up for season after season, this cricket batting net has been expertly created using top-quality materials. The poles, which are designed to withstand impacts from all types of cricket ball are made using 12.7mm fibreglass. The cricket netting is crafted from 3ply knotless polyester with a 25mm mesh which will absorb heavy impacts from cricket balls & keep them close by. Completing the impressive cricket batting cage is the ultra-durable net banding & frame sleeves, which are manufactured using weatherproof 600D PU Oxford Fabric. For a quick & simple assembly, the batting cage features elasticated sections which allows the structure to take shape almost immediately once up.
PLEASE NOTE: The FORTRESS Pop-Up Cricket Batting Net is available in two options. The 6m option features a detachable front panel for open/closed play whereas the 12m option is fully enclosed & consists of 2x 6m batting cages secured together using elastic bungee cords.
Specifications
FORTRESS Pop-Up Cricket Batting Net Specifications
Dimensions:
Batting Cage: 6m L x 3.8m W x 2.8m H | 20ft L x 12ft W x 9ft H
12m option consists of 2x 6m batting cage nets
Front Panel Cut-Out: 30cm x 80cm | 12in x 28in
Materials:
Frame: 12.7mm fibreglass poles (ultra-durable)
Cricket Net: 3ply knotless polyester (25mm square mesh)
Net Banding & Sleeves: 600D PU Oxford Fabric
Adjustable Guy Ropes: 5mm polyester
Ground Pegs: 4mm premium steel
Miscellaneous:
Pop-Up Batting Net can be assembled in just minutes
Features innovative elasticated sections to assist with efficient assembly process
Batting Cage comes with easy-to-remove front panel
Carry Bag included
Front panel features a cut-out section for bowling/pitching machines
FORTRESS Pop-Up Cricket Batting Net can also be used for baseball & softball practice
PLEASE NOTE: Batting Cage is suitable for grass surfaces/soft ground ONLY
Want to chat?
Contact us here and we'll get back to you as soon as possible.
Buy today, play tomorrow
Order by 9pm for next day delivery
Questions & answers
Ask fellow customers what they think!
Hide Q&As
Questions & Answers
No one has asked a question yet!