UEFA Pro Corner Flags & Poles with Ground Sleeve [Set of 4]
UEFA Pro Corner Flags & Poles with Ground Sleeve [Set of 4]
Premium 5cm Thick Football Corner Flags With Plastic Ground Sleeves
Ultra-Durable Construction
The extra-strong 5ft tall corner flags are 5cm thick to ensure that head on collisions will not snap the four PVC poles
Spring Loaded Bases
Each pole is designed with a spring loaded safety feature to reduce the risk of players injuring themselves on the pitch.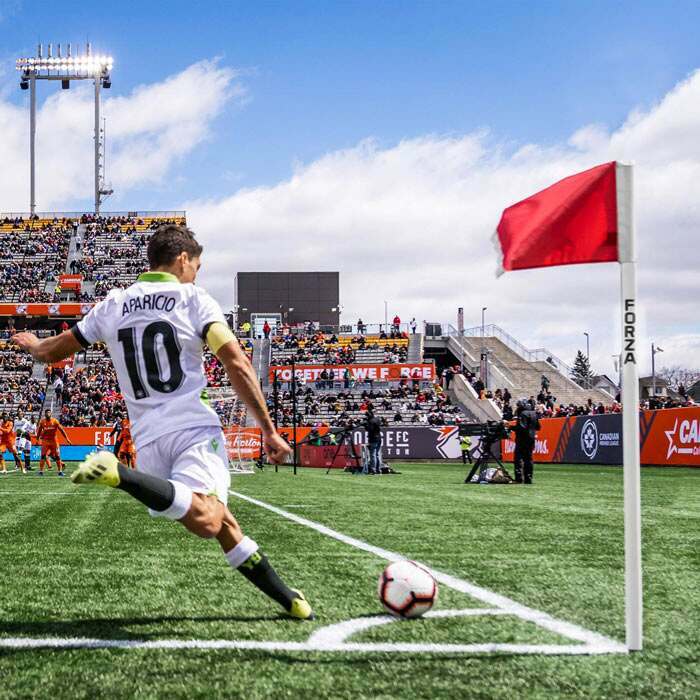 Professional Standard Poles
Complying with UEFA standards for height and diameter these corner flags have been used by the Canadian Premier League.
Description
UEFA Standard 1.5m tall, Spring Loaded Football Corner Flags
Set of four ultra-durable football corner flags which conform with UEFA guidelines. The four poles are 1.5m (5ft) tall once placed in the ground. Equipped with four plastic ground sleeves and four high-quality nylon corner flags, these premium poles can be stored inside the heavy-duty storage bag.
Four professional standard 5cm (2 inch) thick football corner flag poles.
Each pole is (1.9m) (6.4ft) out of the ground.
Poles measure 1.5m (5ft) when placed in the ground through the ground sleeves.
Ground sleeves are 0.4m (1.4ft) long.
Spring loaded bases absorb the impact of head on collisions with the corner flag poles.
High-quality 30cm (11 inch) x 30cm (11 inch) nylon flags are provided with each pole.
Handheld storage bag fits all four corner flags.
Standing at an overall height of 1.9m (6.4ft), these matchday ready football corner flags are supplied with plastic ground sleeves which guarantee the poles are easy to place into the ground. Each ground sleeve measures 0.4m (1.3ft) and can be dug into the ground and left in place, providing you with a constant pocket to slot your poles into. The plastic sleeves reduce the corner flag poles height to 1.5m (5ft) which conforms with UEFA regulations, and allows everyone on the pitch to clearly see the four corners.
The 5cm (2 inch) thick poles are manufactured from weatherproof PVC and feature spring loaded bases for an added layer of safety. Designed to absorb the shock of impacts between players and corner flags, the flexible bases will guarantee your players can continue injury free. To complete the professional look of your football pitch, each pole is outfitted with a bright red, nylon corner flag which measures 30cm (11 inches) x 30cm (11 inches).
You can store all four corner flags inside the lightweight carry bag provided. Hard-wearing woven handles allow you to easily transport all of your corner flags from the pitch to the clubhouse, whilst the full length zipper ensures the poles will not fall out in transit.
Specifications
Dimensions
Pole length: 1.9m (6.4ft)
Pole length in the ground: 1.5m (5ft)
Ground sleeve: 0.4m (1.3m)
Pole diameter: 5cm (2 inches)
Flags: 30cm (11 inches) x 30cm (11 inches)
Materials
Poles: Weatherproof PVC
Flags: Ultra-durable nylon
Miscellaneous
Set is comprised of four poles, four ground sleeves, four flags and a storage bag
Football corner flags comply with UEFA regulations
Flags supplied in a single colour
Want to chat?
We're here on

live chat

right now!
Buy today, play tomorrow
Order by 9pm for next day delivery
Questions & answers
Ask fellow customers what they think!
Hide Q&As
Questions & Answers
No one has asked a question yet!
You may also like
Spring Loaded Corner Pole, Flag & Base Set
₦38,474.00
StadiumMax Wheel Transfer Line Marker - For Sports Pitches
₦150,799.00
Recently Viewed
FORZA World Match Lacrosse Balls
₦1,554.00
Cricket Net Clips (80/pack)
₦5,199.00
5m x 2m FORZA Match Football Goal Post
₦83,199.00
FORZA Pro Football Goal Target Sheets
₦51,999.00
Tennis Ball Collector Mower
₦239,199.00