FORB Pro Driving Range Golf Practice Mat
FORB Pro Driving Range Golf Practice Mat

Professional FORB Golf Hitting Mat For The Driving Range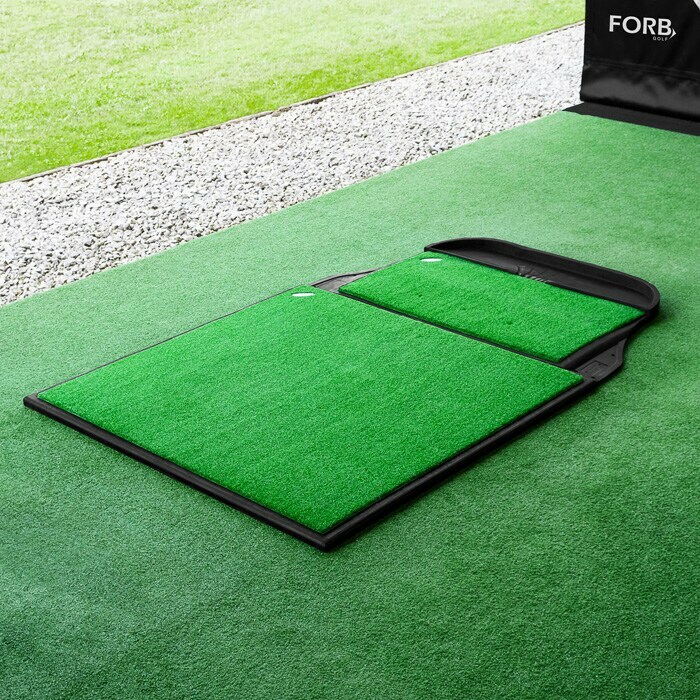 DUAL MAT DESIGN
This professional golf hitting mat allows you to test your driving skills as well as your iron stroke play on the fairways. Simple to assemble, the mat features a high-quality anti-slip rubber base.
PERFECT SHOT CONDITIONS
The 15mm thick artificial turf allows players to experience a golf course-like feel with every shot without the inconvenience of divots. This mat allows you play your best golf in all conditions.
BALL TRAY INCLUDED
Ideal for golf clubs, driving ranges & home use, this FORB Golf Hitting Mat comes with a high-quality rubber golf ball tray which can store dozens of balls at a time – perfect for solo practice.
Description
Test Your Distance Hitting With This Pro Driving Range Golf Mat
This professional quality FORB Pro Driving Range Golf Mat possesses all the characteristics of a fairway without the inconvenience of uprooting turf with every shot. The ability to replicate perfect ball striking conditions with every stroke allows players to really focus on their techniques and put in the necessary work to take their golf game to the next level. The uniquely-designed mat features both stance and fairway surfaces so you can sharpen your iron play as well as your lengthy drives.
Professional Driving Range Golf Mat with fairway & stance surfaces
High-quality artificial turf gives players real-life hitting characteristics
Stance mat comes with an anti-skid rubber base for excellent grip
Golf mat features useful rubber ball tray so you can focus solely on your swing
Selection of rubber tees included for driving practice
Unique to other golf hitting mats, the FORB Pro Golf Mat combines driving range hitting with fairway stroke play thanks to its two-mat design. It's premium anti-slip rubber base ensures players can commit to each shot 100% too. The highly-durable construction can be used in all weather conditions thanks to the 15mm artificial turf that's been used to create this PGA masterpiece. Super-quick and easy to assemble, you can put all your time and focus into perfecting your golf shots.
PLEASE NOTE: Each Forb Pro Driving Range Golf Mat comes with a high-quality rubber ball tray included as standard. If you require some professional FORB golf balls, please see the essentials above.
Specifications
FORB Pro Driving Range Golf Mat Specifications
Dimensions:
Stance Mat: 1.1m x 1.1m | 3.8ft x 3.8ft
Anti-Skid Rubber Base: 1.2m x 1.2m | 4ft x 4ft
Fairway Mat: 0.9m x 0.8m | 3ft x 2.6ft
Overall Size: 2.1m x 2m | 7ft x 6.6ft
Materials:
Grass: 15mm Thick Artificial Turf – gives a real-grass performance
Anti-Skid Mat: Heavy Duty Rubber Base for use on any surface
Ball Tray: Heavy Duty Rubber
Golf Tees: Durable Rubber Designed To Cope With Regular Impacts
Miscellaneous:
Super quick & easy to assemble (fairway & stance mat slot together)
Golf Tees are removable & come in a variety of sizes
Golf Mat comes with a 3 pack of FORB F-5 Tour Quality Golf Balls (FREE Of Charge)
Want to chat?
We're here on

live chat

right now!
Buy today, play tomorrow
Order by 9pm for next day delivery
Questions & answers
Ask fellow customers what they think!
Hide Q&As
Questions & Answers
No one has asked a question yet!
You may also like
FORB Launch Pad Golf Practice Mat – Dual Side [60cm x 30cm]
₦12,999.00
Socketed Professional Golf Cage and Net
₦215,274.00
Freestanding Golf Cage & Net [Home Driving Range]
₦155,999.00
Recently Viewed
Aussie Rules Football Hygiene Water Bottle [1 Litre]
₦2,074.00
Netball Post Protection Padding [Pads Fit 50mm & 80mm Posts]
₦18,199.00
Archery Netting Stop System
₦119,599.00
METIS Medicine Ball/Slam Ball Storage Rack
₦41,599.00
Vermont Wooden Pickleball Paddles [2x Rackets]
₦5,199.00