FORZA Socketed Rugby Football Goal Posts [Single or Pair]
FORZA Socketed Rugby Football Goal Posts [Single or Pair]

2 IN 1 GOAL SET – DESIGNED WITH REINFORCED ALUMINIUM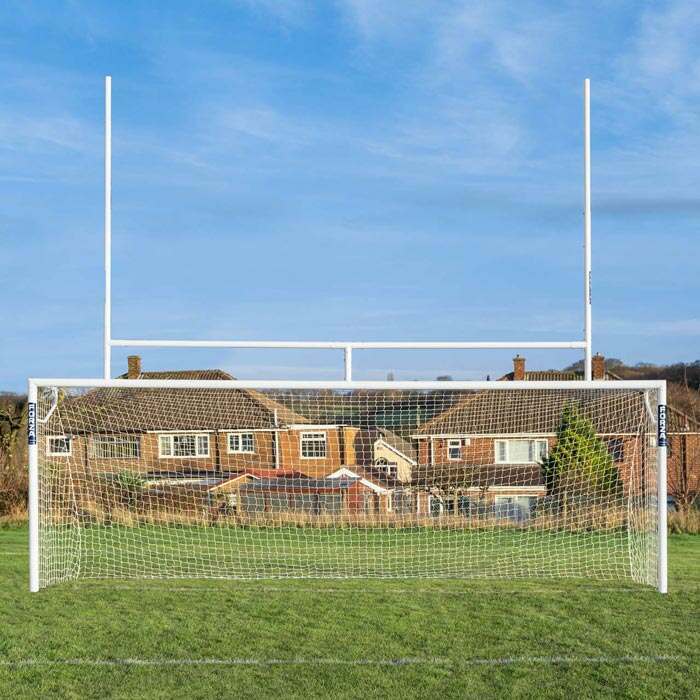 MULTI-SPORT GOAL
Thanks to the multi-sport design, the durable 2 in 1 soccer goal can be used for both regulated rugby & football games or training. Rugby uprights are 10ft (3m) above crossbar for conversions.
PREMIUM NETTING
Manufactured with 5mm (0.2in) HDPE premium netting, the football rugby goal can withstand high velocity ball strikes for season long use. Steel brackets support net stability.
ULTRA-DURABLE ALUMINIUM
The white powder coated aluminium provides perfect protection against all-weather types and ball impact. 2 in 1 goal set can be socketed into the ground for a permanent robust structure.
Description
Junior Or Senior Sized Regulation Height Rugby and Football Goal Posts
Available as a junior sized 6.4m x 2.1m goal or a senior sized, 7.3m x 2.4m goal, this socketed aluminium football & rugby Goal post is perfect for schools, leisure centres and professional clubs thanks to its regulation sizing. Designed to be used throughout training sessions and competitive matches, this socketed goal post's crossbar stands at a height of 3m, guaranteeing these versatile posts are suitable for both football and rugby.
Ultra heavy-duty combination rugby and football posts are available in junior and senior sizes
The goal's cross bar stands at a regulation height of 3m
Rugby uprights stand at a height of 3m above the crossbar 5.6m apart (6m above the ground)
Framework is made from 110mm x 100mm elliptical reinforced aluminium
Powder coated finish for exceptioanl rust and corrosion resistance
White 3mm HDPP goal net with locking hooks
Galvanised steel sockets for permanent ground installation
Made to excel in all weather conditions, this socketed aluminium football & rugby goal post is manufactured from 110mm x 100mm elliptical aluminium which is finished with a white powder coating. This additional white protective layer prevents rust forming on your metal goal posts, in turn ensuring your goal provides years of high-quality performance. Attached to this stable frame are net supports and support braces. Made from 32mm thick zinc plated steel, the support brackets will not sag while displaying the heavy-duty net which is fabricated from 3mm HDPP twine. This premium material ensures your net will not rip or tear, regardless of how many times a football or rugby ball strikes your net.
Included with this combination goal post are deep-rooting ground sockets which are made from galvanised steel. This dependable metal allows you to permanently plant your goal posts in the ground with out the risk of any potential overturning.
Please Note: The ground sockets will drop the goal 45cm into the ground. Sockets require a base which measures 60cm x 60cm which is secured with concrete.
Specifications
Dimensions
Junior Goal Post: 6.4m x 2.1m | 21ft x 7ft
Senior Goal Post: 7.3m x 2.4m | 24ft x 8ft
Crossbar height: 3m | 10ft
Cross bar height above ground: 6m | 20ft
Crossbar width: 5.6m | 18ft
Materials
Frame: 100mm x 110mm elliptical aluminium
Supports: 32mm zinc plated steel
Net: 3mm HDPP twine
Sockets: Galvanised steel
Miscellaneous
Weatherproof combination football and rugby goal posts
Delivered flat packed and will require assembly
Uprights drop 18 inches into the ground sockets
Sockets need to be set in a minimum 60cm x 60 of concrete
Want to chat?
Contact us here and we'll get back to you as soon as possible.
Buy today, play tomorrow
Order by 9pm for next day delivery
Questions & answers
Ask fellow customers what they think!
Hide Q&As
Questions & Answers
No one has asked a question yet!
You may also like
7.3m x 2.4m (24ft x 8ft) FORZA Alu110 Socketed Football Goal
₦418,599.00
7.3m x 2.4m FORZA Alu60 Football Goal
₦358,799.00
Freestanding Aluminium Football & Rugby Combination Goals
₦915,199.00
7.3m x 2.4m FORZA Alu110 Freestanding Football Goal
₦779,999.00